Vietnam Will Lose 9 Percent of Its Trade Potential Due to Restrictive Data Policies; ITIF Also Projects Losses for Bangladesh, Hong Kong, Indonesia, and Pakistan
Examples of these data localization policies in Vietnam include the Law on Cybersecurity, Decree 72 on content moderation, the draft Decree on Personal Data, and regulations for payment and data services. ITIF's study also examines the economic impact of the trend toward data localization policies in Bangladesh, Hong Kong, Indonesia, and Pakistan. All five economies are projected to incur significantly higher import prices, which will raise the cost of doing business and reduce trade. ITIF warns that policymakers need to shift course, or they will risk undermining their respective economies in the global race for digital development.
"Many policymakers mistakenly assume that the best way to pursue growth in the digital economy is to enact laws that control data by forcing firms to store it locally. But the value of data comes from using, not storing it," said Nigel Cory, associate director of trade policy at ITIF, who authored the report. "Policymakers should focus on making data-related laws interoperable to support data flows and support digital development by investing in a skilled workforce and robust infrastructure. Unfortunately, in several cases, Vietnam has succumbed to the false allure of data localization. That will prove to be a costly mistake for the economy because it raises prices and squeezes the supply of digital tools that firms need to do business."
Among the five economies in ITIF's report, Vietnam was projected to suffer the steepest decline in trade after five years due to restrictive data localization measures, followed by Bangladesh, Indonesia, Hong Kong, and Pakistan.
Projected change in import prices and trade volumes after five years due to restrictive data policies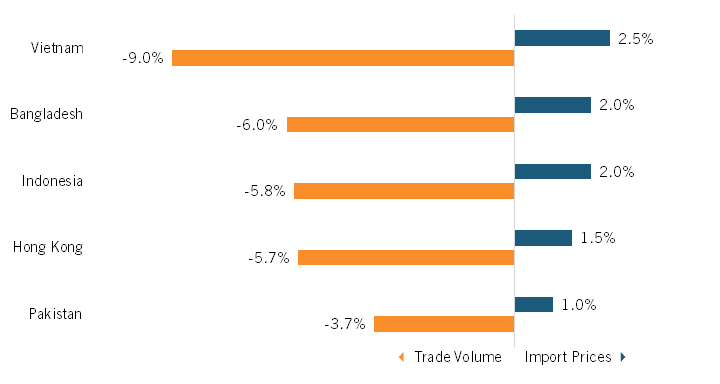 ITIF first compiled an index of data localization policies in each economy, then performed a regression analysis to model the policies' economic impact on data-reliant industries. The analysis found imports to be the variable that was most sensitive to increased data restrictiveness. Overall trade volume declined in line with imports, suggesting that exports also are affected by data restrictions—an unsurprising finding given that imported intermediate goods and services are often used in the production of final goods for exports.
Instead of trying to control data locally, ITIF advises policymakers to focus on "smart data governance policies" that enable digital development and address legitimate public policy issues, like data privacy and cybersecurity, without impacting the free flow of data. That entails updating laws to address legitimate concerns—but in an open, targeted, and balanced way that doesn't undermine the enormous societal and economic benefits of data and digital technologies.
Among the report's recommendations for policymakers in Bangladesh, Hong Kong, Indonesia, Pakistan, and Hong Kong:
▪ Use the right conceptual framework for data policy: Policymakers in Bangladesh, Indonesia, and Pakistan need to reframe their understanding of data away from fundamentally misleading analogies they've used, especially that data is the "new oil," as it will inevitably have a significant effect on the economic impact that data and digital technologies have on their economies.
▪ Acknowledge that data localization imposes economic costs: Many policymakers talk about localization as if it has no tradeoffs or disadvantages, but as this report shows, it definitely does. The debate around localization needs to include detailed analysis of the broad economic and trade costs.
▪ Recognize that controlling data locally is impractical and counterproductive: Localization fails to recognize that the Internet is a global technology and that local digital services will inevitably have global connections by default. Whether it's related to data privacy, law enforcement and government access to data, governments need to work together more as it relates to data, rather than try and cut each other off via localization.
▪ Focus on the fundamentals of information communication technology (ICT) adoption to drive digital development: Maximizing the economic and societal benefits of data and digital technologies depends on having balanced regulations, a skilled workforce, and suitable infrastructure.
▪ When making data-related laws, adhere to the accountability principle: Policymakers should focus on legal accountability such that rules travel with data. They can bring the accountability principle to life in data privacy and other laws by clearly stating that these laws apply to all foreign or domestic firms that do business in a country, regardless of where they transfer the data
▪ For public data and services, use global tech standards, accreditations, and cybersecurity tools: Policymakers can ensure public data and services are suitably protected by ensuring IT procurement contracts for these services use best-in-class international standards and cybersecurity tools. They can also formally recognize, accept, and/or adapt accreditations from countries that use high-standard cloud cybersecurity accreditation regimes.
▪ Pursue new legal agreements to support law enforcement access to data in other jurisdictions: Policymakers should review and reform domestic and international legal tools and frameworks to help law enforcement ensure they can quickly request and receive the data they need for criminal investigations.
▪ Provide a clear and level playing field for digital payments: Policymakers could establish payment councils to create a public-private dialogue on payment policy issues.
"Data localization is a mistake for all countries, but it's especially costly for smaller economies like Vietnam because it deters foreign investment," said Cory. "It makes no commercial sense for firms to build duplicative IT systems in every market, so when they see data localization, the best business decision in many cases will be to downgrade their operations or leave those markets altogether. Policymakers should focus on strengthening the fundamentals of digital development and adopt a smart data governance framework that addresses legitimate concerns like privacy and security without undermining the economic and societal benefits of digital technologies."
###
The Information Technology and Innovation Foundation (ITIF) is an independent, nonprofit, nonpartisan research and educational institute focusing on the intersection of technological innovation and public policy. Recognized by its peers in the think tank community as the global center of excellence for science and technology policy, ITIF's mission is to formulate and promote policy solutions that accelerate innovation and boost productivity to spur growth, opportunity, and progress.