Federal IT Modernization Needs a Strategy and More Money
Despite a plethora of legislation, executive mandates, and other policy guidance to modernize aging federal IT infrastructure, agencies still need access to dedicated IT funding channels with more money and an overarching IT strategy to help guide them in how they fund IT initiatives.
KEY TAKEAWAYS
Without access to greater and quicker funding, agencies are falling short in their IT modernization initiatives, spending almost 80 percent of their IT budgets on operations and maintenance (O&M), compared with around half in the private sector.
Only a handful of federal departments and agencies are utilizing dedicated IT funding channels, such as the Technology Modernization Fund (TMF) and IT working capital funds (WCFs).
Only a small percentage of the thousands of active federal IT projects are in collaboration with other federal agencies—even though many share the same challenges—indicating a need for a more coordinated, overarching approach to IT modernization.
A clearly defined federal IT strategy paired with more money that's distributed through expanded dedicated IT funding channels would help accelerate IT modernization in the federal government.
A Brief History of Federal IT Legislation, Mandates, and Policy 3
Overview of Federal IT Funding Channels 5
The State of Federal IT Modernization Funding and Spending Activities 8
Impediments to Federal IT Modernization. 10
The U.S. federal government has been trying to overhaul its IT infrastructure for decades. At the end of the 20th century, when digital technology was growing, IT's ability to transform enterprises became undeniable—and it was clear technology would impact all spheres of American life, including government services. In most respects, IT is not a politically contentious issue, as members of Congress, agency bureaucrats, outside experts, average citizens, and former presidents from both parties agree that funding IT modernization is essential. Last year, President Biden called the need to upgrade federal IT infrastructure an "urgent national security issue," particularly in the context of the then-raging global pandemic that revealed lackluster technology across all levels of government.[1]
Since that announcement, the president has passed two executive orders applicable to federal IT modernization that focus on improving cybersecurity and transforming the customer experience.[2] This was on top of a swath of legislation over the past 30 years focusing on federal IT modernization, from earlier laws like the Information Technology Management Reform Act of 1996 to the more recent Modernizing Government Technology (MGT) Act of 2017.[3] All in all, there's no shortage of guidance or legislation regarding federal IT modernization. To comply with these mandates, however, agencies need money, which they access primarily through congressional appropriation but also through dedicated IT funding channels such as the TMF.
Modernizing federal IT systems is an expensive endeavor. Proponents of larger IT budgets have pointed to costly legacy systems, poorly designed public-facing websites, cybersecurity concerns, and the need to invest in data analytics and automation to keep pace with the demand for government services in hopes that it convinces Congress to loosen its purse strings.[4] And yet despite this need, IT funding remains overinvested in technical debt—the hidden cost of maintaining existing software—and inefficiently distributed across a variety of priority areas and siloed projects, and federal agencies lack an overarching, cross-cutting strategy to guide their IT spending. In fact, while most agencies have a high number of active IT projects, evidence suggests that only a small percentage of those projects are in collaboration with other agencies. Except for the recent American Rescue Plan (ARP) that arose from the COVID-19 pandemic, historical IT investment through the congressional appropriation process has been insufficient to shift away from expensive legacy systems, let alone accomplish more forward-looking IT modernization efforts.[5] Furthermore, current funding channels aren't effective, as they're either ill-suited for iterative IT development (e.g., congressional appropriations) or not readily available to most agencies (e.g., TMF).
Finally, without a defined, overarching federal IT strategy that both focuses on mission and federal customer outcomes rather than just technology itself and guides agencies to modernize in the same direction and, where possible, with shared systems, the seemingly endless and fruitless effort regarding federal IT modernization will persist. To address these problems:
▪ The Office of Management and Budget (OMB) should implement a long-term, sustainable "whole of government" IT strategy with priorities built around mission and customer outcomes, and Congress should fund IT initiatives that align with these outcomes.
▪ Congress should appropriate $10 billion to address the federal government's technical debt and replace costly legacy systems, while also expanding the TMF.
▪ The TMF board should publish new guidelines that clarify which projects meet their prioritization threshold for flexible repayment, realign its priorities with the overarching federal IT strategy, and share how agencies will receive centralized project support from OMB and the General Services Administration (GSA).
▪ Federal agencies and Congress should work together to establish IT WCFs across all 24 Chief Financial Officers (CFO) Act agencies as soon as possible.
▪ OMB should implement oversight activities to hold agency Chief Information Officers (CIOs) accountable for IT project success—particularly those funded through the TMF or IT WCFs—regarding cost savings and meeting overarching strategic outcomes.
Federal IT modernization has been perpetually top of mind in Washington DC, particularly toward the end of the 20th century when it became patently clear that IT would be a fundamental component of government operations in the future. Yet, in the 1990s, federal IT infrastructure was already woefully outdated, with enterprise software already decades old—and some of those systems are still in place now.[6] It's no surprise that legislators began focusing in earnest on passing laws that would address the federal government's IT shortcomings.
Consider some of the key IT-related laws, programs, and mandates aimed at federal agencies over the past 30 years.
Legislation in the 1990s and early 2000s enacted key administrative components for funding IT modernization, including efforts to improve financial management across the federal government and the establishment of the agency CIO and Federal CIO roles. Congress also began pushing federal agencies to broadly adopt digital, Internet-based technology to enhance public services.
▪ CFO Act of 1990: Aimed to improve the federal government's overall financial management, including IT funding and spending, by identifying 24 CFO Act agencies that are accountable to OMB financial oversight.[7]
▪ Information Technology Management Reform Act, or Clinger-Cohen Act, of 1996: Sought to improve how the federal government managed IT and established the role of agency CIOs.[8]
▪ Government Paperwork Elimination Act of 1998: Mandated federal agencies to both offer electronic submission of information, including utilization of electronic signatures, and maintain electronic records.[9]
▪ E-Government Act, or E-Gov Act, of 2002: Established the role of the Federal CIO within OMB and specified a framework for federal agencies to use "Internet-based information technology to enhance citizen access to Government information and services."[10] This law also created the E-Government Fund, which would later be succeeded by the Federal Citizen Services Fund (FCSF).[11]
▪ M-05-04, Policies for Federal Agency Public Websites (December 17, 2004): Directed federal agencies to comply with policies around public-facing websites per the E-Gov Act of 2002, including information quality, high-level design, and security protocol.[12]
More recent legislation and policy focus on specific priority areas in federal IT modernization, including cybersecurity, cloud migration, mobile-first and user-centered design, and open data, and have begun introducing new, more direct IT funding channels outside of the traditional budget cycle.
▪ Executive Order 13571, Streamlining Service Delivery and Improving Customer Service (April 27, 2011): Emphasized use of "the Internet or mobile phone" and "innovative technologies to accomplish … customer service activities."[13]
▪ Federal Risk and Authorization Management Program, or FedRAMP, 2011: Established a standardized approach to assess cloud services for use by the federal government.[14]
▪ Digital Government Strategy of 2012: Attempted to implement a strategic plan around the federal government's use of digital technology, with objectives focusing on access via multiple platforms, secure shared services, and data. While the strategy includes a directive for GSA to "identify tools and guidance for measuring performance and customer satisfaction on digital services," the strategy itself doesn't specify metrics or outcomes.[15]
▪ Federal Information Security Modernization Act, or FISMA, of 2014: Originally enacted in 2002, FISMA demonstrates the federal government's continued commitment to cybersecurity through standards and guidelines.[16]
▪ Federal Information Technology Acquisition Reform Act, or FITARA, of 2014: Overhauled federal IT purchasing, including initiatives around data-center consolidation and reduction of duplicative IT, and also strengthened the role of agency CIOs by putting them in charge of IT investments.[17]
▪ M-17-06, Policies for Federal Agency Public Websites and Digital Services (November 8, 2016): Provided federal agencies with policies regarding public-facing websites in alignment with the 2012 Digital Government Strategy, including digital governance and information quality; analytics and user feedback; accessibility and usability; data transparency; mobile-friendliness; and privacy and security.[18]
▪ Modernizing Government Technology Act, or MGT Act, of 2017: Supports federal agency investment in modernizing IT via the newly created TMF and authorizes agencies to establish IT WCFs.[19]
▪ Open, Public, Electronic and Necessary Government Data Act, or OPEN Government Data Act, of 2018: Expands federal open data policy by requiring agencies to operate as "open by default" regarding publishing information.[20]
▪ Connected Government Act of 2018: Requires all new and redesigned federal agency websites to be mobile friendly.[21]
▪ 21st Century Integrated Digital Experience Act, or 21st Century IDEA, of 2018: Focuses on improving government customers' digital experience when accessing public-facing federal websites.[22]
Within the past year, the Biden Administration has reemphasized attention to these priority areas in federal IT modernization through a handful of executive orders, namely with respect to cybersecurity and customer experience.
▪ Executive Order 14028, Improving the Nation's Cybersecurity (May 12, 2021): Charges federal agencies with enhancing cybersecurity, including secure cloud solutions, zero-trust architecture, and multifactor authentication, as well as software supply chain integrity.[23]
▪ Executive Order 14058, Transforming Federal Customer Experience and Service Delivery to Rebuild Trust in Government (December 13, 2021): Directs 17 federal agencies to put customers at the center of service delivery, encouraging user-centered design regarding digital technology.[24]
In summary, the history of IT legislation over the past 30 years shows an awareness of utilizing emerging technology to improve government services and modernize federal IT overall, while also instituting greater accountability and oversight over federal IT. However, while many of these laws and policies have strengthened IT leadership roles, they have not provided clear-enough guidance to agency CIOs and other IT leaders regarding how technology should directly support mission and customer outcomes measured across the whole of government. In other words, despite short-lived efforts such as the Digital Government Strategy of 2012, there is no active, sustainable federal IT strategy that offers cross-cutting, inter-agency guidance toward specific outcomes. Lastly, for federal agencies to comply with laws and meet mandates—both of which are typically unfunded—or generally perform any function, they need money.
There are few ways federal agencies can acquire money to fund IT initiatives, and they all have downsides in tackling the ongoing, monumental task of IT modernization. The most common vehicle that offers the greatest pool of money is Congressional appropriation. However, the budget cycle takes time, currently offering funding for initiatives requested up to two years ago. Other channels provide access to funds outside the budget cycle but have far less money to offer and are currently inaccessible to most federal agencies.
Congress is responsible for both authorizing federal programs to operate and appropriating funds to support those programs.[25] Money that is eventually spent on IT may be rolled into an appropriations bill for an overarching program (e.g., $1 billion for the Department of Health and Human Services for the new Advanced Research Projects Agency for Health, or ARPA-H) or may be specifically earmarked for IT (e.g., $2.5 billion for the Veterans Electronic Health Record system).[26]
The congressional budget process is complex and slow.[27] For a given fiscal year, OMB starts working on the budget in the spring or summer of the prior year, and agencies may not have funds for a particular program or initiative for another two years. Congress passed the $1.5 trillion omnibus spending bill in March 2022 for fiscal year (FY) 2022 that started October 1, 2021, after passing four continuing resolutions (CRs) to provide short-term funding at FY 2021 levels.[28] These CRs and delayed budget timelines can impact the progress of federal IT modernization by preventing procurement, delaying hiring, and requiring agencies to invest in old, existing IT rather than moving forward with new initiatives.[29] Indeed, the federal government invests nearly 80 percent of the approximately $80 billion spent annually in federal IT on O&M activities that focus primarily on maintaining existing legacy applications. Given that congressional appropriation is by far the most common method of securing IT funding, the fact that it's both too slow and overinvested in O&M impacts the pace of federal IT modernization.
Other funding channels can offer agencies access to potentially millions of dollars outside the congressional budget cycle. The MGT Act authorized each of the federal agencies with CFOs (per the CFO Act of 1990) to establish IT WCFs that can only be used on cost-saving IT modernization efforts, such as improving or replacing legacy systems, enhancing cybersecurity, and transitioning to cloud computing. As a broad concept, WCFs are typically funded through fees or revenue-generating activities with the goal to be a self-sustaining source of funding to pay for other agency needs.[30] The idea is that agencies could transfer discretionary funds to these IT WCFs for designated IT initiatives, particularly those that require multiyear cash injections, as many large-scale projects do. This is particularly helpful as an alternative to traditional appropriation, which, as the prior section of this report explains, is slow, often delayed, and restrictive in how agencies can spend for their IT initiatives.
Establishing agency IT WCFs has proven easier said than done as Congress has only approved two as of April 2022—one at the Small Business Administration (SBA) and one at the Office of Personnel Management—with the Department of Labor, the U.S. Agency for International Development, and the Department of the Treasury requesting IT WCFs for 2023.[31] Per its FY 2023 budget request, SBA expects to have over $3 million in its IT WCF.[32] Many agencies have existing general WCFs that can be leveraged for IT projects, but the requirements for how they can transfer money and when they can spend it (i.e., using all the funds in one year or across multiple years) vary widely. [33] These general WCFs were not designed to accomplish the kind of IT modernization activities specified for IT WCFs in the MGT Act, nor can they be used to "reimburse amounts transferred to the agency from the Technology Modernization Fund" like the designated IT WCFs can.[34]
The MGT Act also established the TMF, a government-wide revolving fund designed to focus more on broader, collaborative federal IT initiatives. Chaired by the Federal CIO from OMB and with permanent members from GSA and the Department of Homeland Security's Cybersecurity and Infrastructure Security Agency, key areas of focus for the TMF include modernizing high-priority systems, cybersecurity, public-facing digital systems, and cross-government services. Congress originally authorized the TMF for up to $250 million for FYs 2018 and 2019, but the fund only received $175 million over its first three years (2018–2020). It did receive a sizeable $1 billion cash injection from the ARP in 2021, but that was in response to COVID-19 and was far less than the $9 billion the Biden administration believed necessary to achieve large-scale IT modernization across the federal government.[35] The Biden administration also asked for $500 million for the TMF in the FY 2022 budget request, but the latest omnibus spending bill provided no additional money for the fund.[36]
The TMF board employs a two-step process to evaluate and approve proposed projects, with GSA and OMB setting the terms of repayment. Repayment typically aims to recoup full costs within five years—a much longer timeframe than most agency-level WCFs. However, as part of the ARP, the TMF began accommodating proposals that require greater repayment flexibility if they align with the board's priorities. Repayment plans fall under full repayment, partial repayment at 25 percent, 50 percent, or 75 percent of the funding level, and minimal repayment, which is reserved for "proposals that tackle the most urgent IT cybersecurity and modernization problems facing our government, and where cost savings are not easily realized by the proposing agency."[37]
As one would expect, the TMF is very popular with agency IT leaders, and, as a result is not viewed as a fully reliable funding source for most federal agencies.[38] Raylene Yung, executive director of the TMF, stated in March 2022 that the money the TMF had received thus far wasn't nearly enough to manage "the flood of requests" from federal agencies.[39] As of that time, the TMF had received over 130 proposals worth about $2.5 billion from more than 40 federal agencies.[40]
While the IT WCFs and the TMF offer off-budget funding sources for agencies, most agencies are not readily accessing either of them. Furthermore, the money available from the TMF is too little to cover the considerable price tags that come with large-scale IT modernization efforts.
GSA established the FCSF to drive "innovation in government through interagency programs to enhance the federal government's ability to do business electronically and to disseminate Federal government information to the public."[41] The FCSF receives yearly appropriations, including the same $55 million as FY 2021 from the latest spending bill.[42] GSA uses FCSF money on initiatives that are public facing or greatly impact citizen services such as login.gov (a secure, single sign-on service used by the public to access government services across multiple participating agencies) and the FedRAMP (a standardized approach to assess cloud services for use by the federal government).[43]
The Acquisition Services Fund (ASF) is a "full-cost-recovery" revolving fund that does not receive annual appropriations from Congress but rather recovers costs by charging fees to federal agencies for the services and commodities it provides. The ASF includes the acquisition of IT solutions as well as motor vehicles, supplies, and a variety of other goods and services for federal agencies. [44] In FY 2020, the ASF contained over $20 billion with most (68 percent) of the revenue generated from the Department of Defense.[45] Both the ASF and FCSF fund part of the activities of Technology Transformation Services (TTS), which is GSA's department that "exists to design and deliver a digital government with and for the American people" and includes salary and staff expenses for 18F, GSA's team of technologists that help other agencies with technical fixes and IT development.[46]
Similarly, the Information Technology Oversight and Reform (ITOR) fund—an account of approximately $240 million managed by OMB to invest in IT monitoring activities—helps fund staffing for the U.S. Digital Service, the federal government's rotating tactical tech team that supports IT modernization efforts.[47]
While GSA and OMB use FCSF and ITOR funds for IT modernization efforts and staffing that frequently impact multiple federal agencies, the money itself is not available for use by most federal agencies for their own IT initiatives. Similarly, both the FCSF and ASF are options for federal agencies to access certain products and services to support their IT modernization efforts but aren't sources of funding themselves.
In summary, most agencies get their IT funding from congressional appropriation, which is too slow and, as revealed in the next section, too invested in existing IT. Other available funding channels are too small (TMF), reserved for other purposes (WCFs, FCSF, ASF, ITOR), or not widely accessed by federal agencies (all the above).
Given the history of unfunded legislative and executive guidance, as well as a handful of inefficient funding channels, it is not surprising that federal IT modernization goals remain unmet. In 2019, the Government Accountability Office (GAO) released a report listing the top 10 most expensive legacy systems ranging in age from 8- to 51-years-old that collectively cost around $340 million each year to maintain. Since then, GAO has found that only two systems have workable modernization plans.[48] In March 2022, Sens. Maggie Hassan (D-NH) and John Cornyn (R-TX) introduced the "Legacy IT Reduction Act of 2022," which aims to inventory legacy systems across the federal government and document modernization plans to reduce expenditures on these legacy systems.[49] It's not that the federal agencies aren't aware that they're dealing with expensive, inefficient IT, but rather are struggling to best utilize their limited IT dollars beyond ongoing O&M costs while investing what's left in congressional or executive priorities that don't provide overarching direction for IT modernization.
Figure 1: Federal IT spending by category (in billions)[50]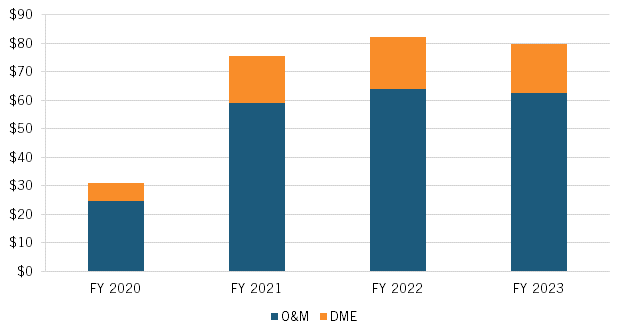 As mentioned earlier in this report, most agencies are not utilizing IT-designated funding channels, with only 2 of the 24 eligible agencies having established IT WCFs and only 11 agencies successfully accessing the TMF. This struggle to direct funding toward IT modernization also aligns with investment data available on the Federal IT Dashboard, a website managed by GSA to aggregate and visualize federal IT spending data. In FY 2021, the federal government spent over $75 billion on IT according to the dashboard, but the vast majority of that funding—around 78 percent across the last four fiscal years—went to O&M activities that focus primarily on maintaining existing IT applications and software rather than projects that are designated "Development, Modernization and Enhancement" (DME), and thus more aligned with true IT modernization.[51] Compare this with the private sector, where only around half of IT spending is O&M.[52] Many of these legacy systems are critical to ongoing government services, but are also inefficient and very costly to maintain.
And yet, with so much money going into O&M, it's not surprising IT modernization across more forward-looking priority areas is too slow, as evidenced by the following challenges:
▪ Cybersecurity and cloud migration continue to be an evolving and ongoing investment for federal agencies, with federal cloud adoption still lagging behind the private sector by about half.[53]
▪ There's still no integrated identity and access management in the federal government to ensure that users have the appropriate access to the correct resources.[54]
▪ The quality of citizen-facing websites and the use of biometrics are behind relative to the private sector.[55]
▪ The federal government needs to implement stronger data standardization and governance.[56]
▪ There is relatively low deployment of artificial intelligence (AI) in the federal government despite 70 percent of public sector IT leaders agreeing that AI is "mission critical."[57]
▪ GAO found a considerable IT skills gap in the federal workforce to advance the above efforts and support forward-looking IT modernization.[58]
Federal agencies spend a lot of money "keeping the trains running on time" through O&M activities and meeting legislative and executive guidance.[59] These are critical investments, but limited funds distributed across inefficient funding channels and an abundance of guidance leave agency CIOs with little wiggle room to fund IT projects that may better support their mission or program objectives, let alone initiatives that operate across the whole of government. In fact, data gathered from a handful of federal agencies (Department of Energy, Office of Personnel Management, Department of Commerce, National Science Foundation, and National Aeronautics and Space Administration) suggests that only a small percentage of federal IT initiatives are in collaboration with one or more other agencies, despite many agencies focusing on the same priority areas.[60]
In short, too much of the funding for IT initiatives goes to maintaining existing software instead of for modernization efforts, particularly as many of these investments save money in the long run (e.g., some estimates find that organizations can reduce IT overhead 30 to 40 percent by migrating to the cloud).[61] And the little remaining funds available to agencies after keeping critical systems working and aligning with external guidance are directed toward siloed investments that may be critical, but which ultimately lack coordination and collaboration across the whole of federal government.
The information presented in the prior sections regarding IT legislation and policy guidance, funding channels, and spending activities illustrate three significant impediments to federal IT modernization.
The lack of an overall federal IT strategy is reflected in how infrequently agencies collaborate despite focusing on similar priority areas or technology investments. Indeed, even OMB and GSA aren't coordinating well enough on their digital services guidance to federal agencies, according to a December 2021 GAO report.[62] Legislation, mandates, and policies over the last 30 years guide agencies toward technology itself (e.g., cloud, zero trust, websites, digital forms, mobile, etc.) in a piecemeal fashion rather than as a cohesive, overarching strategy that targets mission or customer outcomes met through technology. IT, after all, is a means to an end, and that end hasn't been meaningfully defined at a government-wide level.
The Digital Government Strategy released by the Obama administration in 2012 included some good ideas, such as outlining the need for institutional structures in support of IT modernization such as a centralized Digital Services Innovation Center, agency-wide governance, and measuring progress around digital transformation, but the strategy doesn't connect its actions with targeted mission outcomes.[63] What are the cost-savings targets? To what degree should customer satisfaction be improved? What are the targets for reduced service delivery time? How will equity and accessibility be impacted? How will federal IT investments quantifiably address climate change? Additionally, this plan—now a decade old—wasn't designed as a living, sustainable strategy, and most of its initiatives have stalled. The federal government remains concerned with IT modernization, but without a government-wide strategic directive that program, financial, and IT leaders all fully embrace, useful structures such as the Federal CIO, the CIO Council, and the TMF cannot be effective.
Without a defined federal IT strategy, inefficient or inaccessible funding channels act as another impediment to federal IT modernization. Most IT funding is congressionally appropriated to agencies for their respective programs instead of as part of inter-agency initiatives, resulting in siloed investments that are duplicative and ultimately less cost-efficient, scalable, and replicable in comparison with coordinated efforts such as login.gov that support broad modernization and integrated shared services.
Furthermore, while efforts to empower CIOs with greater control over IT investments have been helpful for IT modernization overall, congressional appropriation is too slow, and often delayed, for agency CIOs to do much beyond "keeping the lights on" (i.e., O&M). IT exists in a fast-paced, evolving environment, and agency CIOs need funding mechanisms that are conducive to change and offer simpler, quicker funding for IT delivery. Unfortunately, off-budget funding channels that better support timely, iterative IT modernization activities—namely IT WCFs and the TMF—are not used by most federal agencies. IT WCFs are blocked by program leaders, CFOs, or Congress, and the TMF doesn't have enough money to achieve its lofty goal of government-wide IT modernization. Other agency executives and Congress could better support IT funding through a defined IT strategy that connects IT investments with achieving program and mission outcomes.
This leads to the final impediment to federal IT modernization. Despite billions of dollars invested in federal IT each year, there's still not enough money placed in the appropriate channels for agencies to escape the combined burden of technical debt and O&M costs. Technical debt is difficult to calculate, but Tony Scott, the former Federal CIO, shared in 2016 that OMB calculated the federal government's technology deficit at $7.5 billion and growing.[64] Another 2017 report finds that "government had the highest average technical debt ($1.5 million) per application, which is up to five times greater than the 11 other industries examined."[65] Additionally, almost 80 percent of annual federal IT spending over the last several years has been dedicated to O&M. Compare this with the United Kingdom, one of the more successful digital governments according to the Organization for Economic Co-operation and Development's (OECD) Digital Government Index, wherein less than half of its federal IT money is spent on O&M.[66] There are dozens of laws and mandates supporting federal IT modernization, many of which are highlighted in this report, but agencies are struggling to dedicate funding to those efforts due to the accrued burden of technical debt and O&M activities, and without an overarching strategic directive that offers leverage to shift IT spending from O&M to DME. Shifting (not necessarily reducing) costs from O&M to DME is itself a cost-saving strategy. A key goal of digital transformation in government is to reduce the overall cost of government by investing in technology that allows government to run more efficiently. (Admittedly, federal agencies' mismanagement of IT acquisition and procurement over the years has played a role in technical debt and O&M being such a burden today, but this demonstrates all the more need for a centralized, coordinated, and strategic approach to federal IT modernization moving forward.[67])
The TMF offers an unprecedented opportunity to fund broad federal IT modernization efforts given that it operates across agencies and already has a centralized IT governance structure. But the fund doesn't have enough money. In fact, the TMF board turns away quality proposals from agencies because there's not enough to go around.[68] Without more funding, the TMF cannot achieve its mission of digital transformation across the federal government. Part of the problem may be that without an overarching IT strategy, it is hard to justify additional funding for the TMF.
The following recommendations offer key stakeholders—namely Congress, OMB, and GSA—actionable steps to remediate the identified impediments around federal IT modernization.
OMB should implement a long-term, sustainable "whole of government" IT strategy with priorities built around mission and customer outcomes, and Congress should fund IT initiatives that align with those outcomes. In its 2019 Digital Government Index, OECD found that "the results of top-performing countries derive from long-standing institutional arrangements and sustainable strategies" and argued that support for digital governments "needs to be sustained across years and political cycles."[69] Federal IT modernization in the United States requires a living, sustainable strategy that targets measurable outcomes that can be applied broadly across the federal government.
The federal IT strategy should be developed as a coordinated effort between program executives and IT leadership and should emphasize government-wide collaboration and shared services. Priorities could include cost and personnel reductions, ease of use for federal customers (including delay-reduction, elimination of paper processes, and metrics for equity and accessibility), customer-focused cybersecurity improvements, and service delivery speed (including automating manual processes where appropriate)—examples that already align with the Biden-Harris Management Agenda Vision and other laws and guidance, but as part of a cohesive strategy that supports federal agencies moving together in the same direction.[70]
Existing institutional and governance structures such as the Federal CIO, CIO Council, and the TMF board can drive the execution of the federal IT strategy while also monitoring and measuring progress. Through the annual budget cycle or additional appropriations to the TMF, Congress can better evaluate IT initiatives and approve funding based on alignment with an approved, government-wide IT strategy.
Congress should appropriate $10 billion to address the federal government's technical debt and replace costly legacy systems while also expanding the TMF. This is a two-pronged approach as part of the overarching federal IT strategy wherein (1) there are targeted congressional appropriations to the TMF to specifically address costly legacy systems and reduce the federal government's massive technical debt over the next three to five years while (2) the TMF receives greater seed money to address its considerable demand and actualize other strategic priorities for federal IT modernization. The first "prong" is already in progress with the recent Legacy IT Reduction Act of 2022, but that effort eventually needs funding.
Legacy replacement of this scale will require significant up-front investment, but will allow agencies to reduce IT spending in O&M. This means cost savings that can be realized in time and then revolved back into the TMF. The Biden administration requested $9 billion for the TMF in 2021.[71] With that amount of money and a clear strategic directive, the TMF can act as the key funding mechanism for faster, whole-of-government IT modernization.
While the TMF may never be completely self-sustaining, the board can manage how various projects repay funding, and Congress can better evaluate additional appropriations to the TMF based on progress and alignment with the overarching federal IT strategy. With greater, more sustained year-over-year funding, the TMF can function as a strategic arm for OMB and GSA to provide off-cycle funding to agencies for collaborative, cross-cutting projects that align with the overarching federal IT strategy.
The TMF board should publish new guidelines that clarify which projects meet their prioritization threshold for flexible repayment, realign its priorities with the overarching federal IT strategy, and share how agencies will receive centralized project support from OMB and GSA. With more money, the TMF board can be less selective and faster in approving more project proposals that align with the strategic outcomes, particularly inter-agency investments that incorporate shared services, avoid duplicative IT efforts, and encourage sharing of best practices.
TMF investments accrue cost savings across multiple agencies and years, which should be reflected in how agencies "repay" the fund. Additionally, some of the cost savings from these projects accrue to nonfederal users of federal IT systems, and agencies should get credit for those cost savings when applying for funding.
TMF project delivery should include greater coordination, resources, and governance from OMB and GSA, and OMB should continue to monitor outcomes from these projects even after the technology is in place. This includes leveraging OMB and GSA tactical support services such as 18F and the U.S. Digital Service to deliver services faster and more efficiently (and to ensure alignment with overarching strategic goals).
GSA should consider how it utilizes TMF funding versus its available funding channels such as the FCSF. If it aligns with the overarching federal IT strategy, regular appropriations going to the FCSF may better serve federal IT modernization through the TMF. Instead of moving forward with GSA's plan to request amendments to FCSF appropriation language so services are reimbursable, GSA should consider consolidating the FCSF with the TMF since the latter is already a revolving fund.[72]
Federal agencies and Congress should work together to establish IT WCFs across all 24 CFO Act agencies as soon as possible. IT WCFs allow agencies to better manage their spending for IT initiatives by providing access to funds across multiple years (or even by utilizing no-year funding) rather than through the lengthy, oft-delayed annual appropriation process. Federal IT modernization and associated investments will be perpetual, and agencies need to be able to tap into funding for long-term projects that are otherwise at risk of dying due to the unpredictability of the congressional budget cycle. IT WCFs also play an important role with an expanded TMF, as IT WCFs can be used to reimburse funds borrowed from the TMF and thus contribute to the overall health and long-term sustainability of the TMF.
Establishing IT WCFs requires support from agency directors and CFOs, and thus supports alignment across executive leadership regarding IT modernization while also empowering agency CIOs to determine which IT investments achieve both agency-specific and government-wide mission outcomes associated with the overarching federal IT strategy. Per the MGT Act, OMB will provide oversight of IT WCFs, which will also ensure that agencies' IT spending from the fund aligns with the broader federal IT strategy.[73]
OMB should implement oversight activities to hold agency CIOs accountable for IT project success—particularly those funded through the TMF or IT WCFs—regarding cost savings and meeting overarching strategic outcomes. Greater accountability at the agency CIO level improves IT spending, acquisition, and management and requires agency CIOs to meet repayment obligations for their agency IT WCFs and the TMF. But at the same time, accountability and ownership over IT initiatives mean CIOs have greater agency and flexibility regarding how they innovate, collaborate, and utilize particular technologies or methods (as long as they meet funding terms and strategic outcomes).
The Federal CIO, TMF board, CIO Council, 18F, USDS, etc. should provide centralized support to agency CIOs to align their IT initiatives with the overarching federal IT strategy, but agency CIOs should be responsible for the decentralized, ground-level execution of this strategy. Agencies should also institute stronger methods to calculate long-term cost savings through budget requests or TMF project proposals while demonstrating how a given program or IT initiative meets strategic outcomes and shifts IT investments away from O&M to IT modernization efforts.
Federal agencies have received considerable direction over the past 30 years through laws, policy, and mandates, but agencies still have failed to modernize much of their IT in part because this direction has lacked strategic cohesion and the requisite funding to modernize IT efficiently. In addition to more up-front investment that reduces technical debt and O&M spending, federal IT modernization needs a sustainable, overarching IT strategy that's focused on whole-of-government mission outcomes. Instead of relying on slow congressional appropriation for siloed IT initiatives, agencies should access expanded funding vehicles such as the TMF and IT WCFs that provide off-budget funding; promote inter-agency collaboration, governance, oversight, and greater CIO agency in IT spending; and offer a better pathway to achieving cross-cutting, strategic priorities in a cost-efficient manner.
It's time for directors, CFOs, CIOs, and executives across the federal government to realize that the best way to achieve IT modernization is by working together through a defined IT strategy in which agencies are funded, invest, and collaborate in the same direction.
About the Author
Eric Egan is a Policy Fellow for e-Government at the Information Technology and Innovation Foundation. He researches digital transformation in government and how technology can help the public sector achieve mission objectives in innovative and effective ways.
About ITIF
The Information Technology and Innovation Foundation (ITIF) is an independent, nonprofit, nonpartisan research and educational institute focusing on the intersection of technological innovation and public policy. Recognized by its peers in the think tank community as the global center of excellence for science and technology policy, ITIF's mission is to formulate and promote policy solutions that accelerate innovation and boost productivity to spur growth, opportunity, and progress.
For more information, visit itif.org.