OCED Observatory Newsletter, Issue 4: Hydrogen Sector Activity Ramps Up
Activity in the hydrogen sector continues to ramp up, as more governments jostle to offer subsidies and incentives. In the U.S., the deadline for concept paper submission to DOE for the H2Hubs program has passed and many credible hubs are emerging.
Contents
Large US Hydrogen-Related Projects
Reports from Nonprofits, Trade Associations, and Government
Would you like to receive the OCED Observatory Newsletter by email? Contact Hannah Boyles. This newsletter was not funded or sponsored by U.S. DOE OCED.
Activity in the hydrogen sector continues to ramp up, as more governments jostle to offer subsidies and incentives, so this newsletter is longer than usual. In the U.S., the Nov. 7th deadline for concept paper submission to DOE for the H2Hubs program has passed, and different sources indicate that DOE received 79 or "more than 100" papers. Many of these reflect interest from private companies that are already investing in hydrogen activities, such as Fortescue in Central WA or Florida Power and Light in FL.
However, a number of credible hubs appear to be emerging. Many have not published anything at all (e.g., the NorthEast hub), others have kept their concept papers private for now, but some have published them fully (thanks Obsidian) or in redacted form (WISSH).
We've not yet seen any mergers of proposed hubs, but that seems increasingly likely given the math. Word from the hubs suggests that there is a lot of concern about meeting the community engagement/community benefits demands of the FOA.
▪ AK. The Alaska Gasline Development Corporation (AGDC) submitted a blue hydrogen proposal to produce more than 600 mt/d of hydrogen from natural gas feedstock with CCUS, eventually rising to 1,600 mt/d. The proposal expects to use $850 million in DOE funding as well as $3.75 billion from the private sector, supported by offtake agreements with Asian end-users, via its proposedAlaska LNG terminal. Supporting organizations include Agrium U.S., Salamatof Native Association, Alaska CCUS Consortium, and the University of Alaska. Mitsubishi Corporation, TOYO Engineering Corporation, and Hilcorp Alaska are evaluating options for ammonia production.
▪ AZ/NV. SHINe, The Southwest Clean Hydrogen Innovation Network is a collaboration between Arizona, the Navajo Nation, Arizona Carbon-Neutral Economy (AzCaNE), and the state of Nevada. Housed at ASU, it includes more than 40 member organizations. SHINe has submitted a DOE concept paper.
▪ CA. ARCHES, The Alliance for Renewable Clean Hydrogen Energy Systems (ARCHES) has emerged as the proposed California H2Hub, supported by Governor Newsome and a wide array of elected officials, local governments, NGOs, and companies. The hub will be led by the Governor's office and UC. Few details are available yet, but the proposal is likely based on the SoCalGas initiative in conjunction with WISSH (see newsletter #2).
▪ CO/NM/UT/WY. The Western Inter-States Hydrogen Hub (WISSH) is supported by the Rocky Mountain Alliance for Next Generation Energy (RANGE) and has hired Atkins as the lead contractor. WISSH recently released a public version of the concept paper. It shows 8 hydrogen production facilities (green and blue + CCUS) and an initial end-use focus on power generation and load leveling along with commercial/residential heating, and heavy equipment. The proposed hub will initially distribute hydrogen primarily as blended H2/NG via existing pipelines. Eventually, it will transport pure hydrogen via new dedicated pipelines and establish clean hydrogen corridors for heavy trucking and industrial equipment. The team and project details in the concept paper are extensive.
▪ IL. A Greater St. Louis and Illinois hub has been announced. Partners include Ameren, Burns McDonnell, MPLX LP (and its sponsor, Marathon Petroleum Corp.), Marquis Industrial Complex, Alton Steel, The Urban League of Metropolitan St. Louis, Inc., Walmart, Mitsubishi Power, Plug Power, Spire, Washington University in St. Louis, Missouri University of Science and Technology, Greater St. Louis, Inc., and the Leadership Council of Southwestern Illinois.
▪ IL/IN/KY/MI/MN/OH/WI. The Midwest Alliance for Clean Hydrogen (MachH2) has submitted a DOE H2Hubs application.
▪ LA/AR/OK. The HALO hub has expanded to include Oklahoma. And a coalition of south Louisiana organizations won a $50 million EDA grant, matched by a $24.5 million State grant to build a hydrogen innovation ecosystem in south Louisiana. HALO is possibly now being rolled into TX HyVelocity Hub.
▪ IL/IN/KY/MI/MS/WI. The Midwest Alliance for Clean Hydrogen (MachH2) may also include NJ. Projects already proposed by alliance members will support an estimated 4,500 construction jobs and 400 permanent positions once complete. Total construction spending is estimated at nearly $4 billion, including $1.7 billion in wages and $65 million to $70 million in state income taxes. No concept paper is available.
▪ NY/NJ/MA/ME/RI/CTY. The New York State Energy Research and Development Authority (NYSERDA) has signed with over 60 clean hydrogen ecosystem partners to develop a clean hydrogen hub in the North- East US. No news since the early announcements.
▪ OH. Energy Harbor (utility) plansGreat Lakes Clean Hydrogen (GLHC) pink hydrogen hub based on its Davis-Besse nuclear facility. It is teaming with UT, Energy Harbor, Linde, GE Aerospace, Cleveland-Cliffs, multiple glass manufacturers, the Toledo Area Regional Transit Authority, Michigan State and Michigan Tech universities, First Solar, the Port of Monroe, PJM Interconnection, and several national laboratories. End-users would include automotive, power generation, trucking, steel manufacturing, and technology suppliers. We have confirmed that an application was submitted, but the concept paper is private.
▪ PA/OH. Decarbonization Network of Appalachia (DNA H2Hub) will be based (somewhere) in Pennsylvania (or perhaps Ohio). The concept paper has been delivered by Team Pennsylvania, and the hub will be led by Equinor, Shell, and US Steel. It will focus on decarbonizing steel and heavy manufacturing. It is supported by Governor Wolf (as is ARCH2).
▪ TX/LA. The HyVelocity Hub covering Texas, SW Louisiana, and the surrounding Gulf Coast region has applied for DOE H2Hubs funding. Founding members include GTI Energy, The Center for Houston's Future, The University of Texas at Austin, Air Liquide, and Chevron. The hub will build on Houston's Clean Hydrogen Roadmap. More here.
▪ WA. The Obsidian Pacific North West Hydrogen Hub (OPNWHH) applied for DOE funding. The concept paper is available here. Obsidian aims to produce 175 MT of green H2 daily at two large producing hubs, and a further 175mt from other production facilities along a 560-mile dedicated pipeline across eastern Washington (see map below). The plants would be powered by 1200 MW of new solar along the pipeline and 1200 MW of wind, plus access to existing regional hydropower. End-users include industrial parks; large data centers owned by e.g. Apple, Google, Microsoft, and Facebook; a new clean ammonia plant; military bases; hospitals; and fleets of trucks and other heavy-duty vehicles. (Note: It appears that Obsidian is no longer supported by the states of Washington and Oregon.)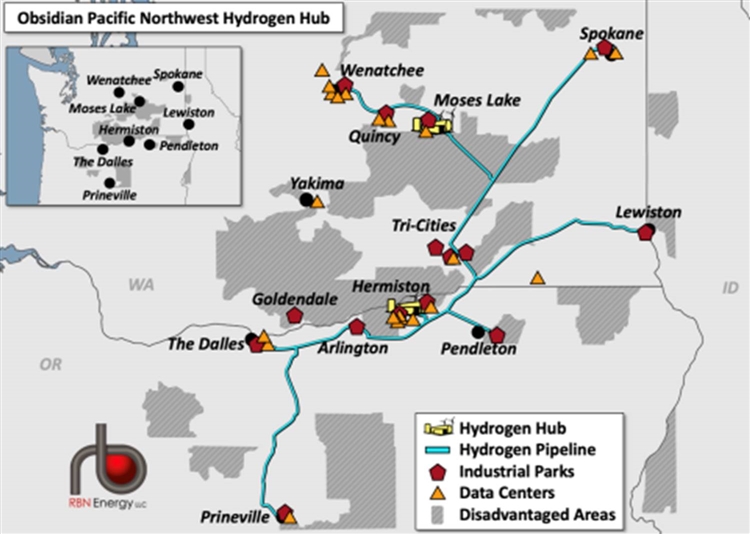 ▪ WA. The Pacific Northwest Hydrogen Association (PNWH2) is a public-private partnership led by the state governments in Washington and Oregon that also includes representatives from industry, universities and colleges, labor unions, and Native American tribal interests. According to RBN, PNWH2 will primarily use hydro resources to power electrolyzers. Hydrogen will be distributed through a hydrogen pipeline system to a full slate of end-users, including power generation, heavy transportation (trucks, buses, and maybe rail), shipping, manufacturing, high tech, and agriculture. The hub submitted a proposal, but no concept paper is publicly available.
▪ WI/MN/MT/ND. The Heartland Hydrogen Hub will beled through the proposal phase by ND, through the Energy and Environmental Research Center at the University of North Dakota, home to theNational Center for Hydrogen Technology. A key player, Bakken Energy, recently announced a CRADA to explore hydrogen uses with Grand Forks Airforce Base. No concept paper is available, and there is no evidence that they submitted one to DOE.
▪ WV/OH/PA/KY. Appalachian Regional Clean Hydrogen Hub (ARCH2) announced, led by Battelle, including EQT Energy, GTI Energy, Allegheny Science and Technology (AST), and the state of West Virginia.. The proposed hub is nowattracting industry partners (e.g. Chemours – likely as fuel cell manufacturer – CNX Corp., Nucor Steel, Peoples Natural Gas, the Energy Innovation Center, Babcock, and Wilcox, Air Liquide, and NETL). The Ohio Clean Hydrogen Hub Alliance (OH2Hub) just joined ARCH2 along with DT Midstream, Southwestern Energy, and Williams (all major energy companies. The initial list of participants.
▪ GA/NC/SC/TN/AL/KY announced the Southeast Hydrogen Hub. It is led by Dominion Energy, Duke Energy, Louisville Gas & Electric Company, and Kentucky Utilities Company (LG&E and KU), Southern Company, and the Tennessee Valley Authority (TVA).
▪ HI. The Hawaii Pacific Hydrogen Hub is a consortium of 21 partners (Hawai'i Gas, Cyrq Energy, led by the Hawai'i State Energy Office). The proposed hub includes existing, in-development and proposed clean hydrogen production and utilization projects. Interestingly it claims a national security component. Hawai'I Gas already includes 9-12% H2 in its natural gas pipelines. Partners include NREL and US DOT.
▪ IN. The Indiana Economic development Agency, backed by engine manufacturer Cummins along with Indianapolis-based Energy Systems Network, Purdue University, and London-based BP, appears to have submitted a concept paper.
▪ GA. Work has begun on Plug Power's Peachtree 15/mt hydrogen project in Kingsland, Georgia. Olin, a producer, and marketer of chlor alkali, will supply hydrogen while Plug Power will be the exclusive distributor and will handle the distribution logistics.
▪ PA. EDGE program signed. The package aims to attract a hydrogen hub to Pennsylvania by granting up to $50 million in tax credits each year to companies that buy hydrogen produced in Pennsylvania.
▪ Louisiana. Kindle Energy-Magnolia Power announced a 700-megawatt advanced class combined cycle plant, capable of using 50 percent hydrogen for fuel on day one.
▪ Energy Vault has revealed 3 major LDES projects, including a 300MW/48-hour hybrid system utilizing green hydrogen technology for a western US utility. NOTE- Energy Vault also pivoted away from new technologies towards battery-based storage.
▪ DOE releases LDES FOA
▪ Autos. Honda has announced plans for a fuel-cell hydrogen–powered version of the CR-V that will begin production in 2024. The new model will be built in Ohio and will also offer plug-in capability for its battery pack. Stellantis announced mass production of hydrogen-powered Peugeot, Citroen, and Opel light commercial vehicles, and BMW announced that it will be testing a hydrogen version of its iX5.
▪ Trains. California — Recently displayed at the InnoTrans trade fair in Berlin, the Flirt H2 will be introduced on San Bernardino's Arrow services in 2024 and will be the first hydrogen-powered train to run in the US. But in Germany, the state of Baden-Württemberg, which has tested a small fleet of 16 hydrogen fuel cell-powered trains, has decided to abandon the project.
▪ Air transport. Ireland — Ryanair on Thursday signed a sustainable aviation fuel supply agreement with Shell (SHEL.L), but Chief Executive Michael O'Leary said it would take a "revolution" to hit his target of powering 12.5% of flights with the fuel by 2030
▪ Power. Wärtsilä, in partnership with WEC Energy Group, EPRI, and Burns & McDonnell completed testing of the world's biggest internal combustion engine to ever run continuously on a hydrogen fuel combination, at the A.J. Mihm power plant in Michigan.
▪ Steel. Sweden — Swedish steel venture H2 Green Steel said on Monday it had secured support for 3.5 billion euros ($3.45 billion) in debt financing to build a hydrogen-powered steel plant in Northern Sweden.
▪ Australia. Energy Estate and Eurus Energy will cooperate on the delivery of green hydrogen as part of the proposed $2 billion Hunter Hydrogen Network (H2N) project. The 1.6 GW project combines massive electrolyzers and a shared hydrogen pipeline to the Port of Newcastle and other key Hunter areas.
▪ Australia. Fortescue Future Industries (FFI) and Windlab, a renewable energy asset manager, will partner on a 10GW wind and solar farm in Queensland. The output will power industry-scale green hydrogen production.
▪ Canada. The Canadian government will invest $300 million alongside a provincial contribution of $161.5 million to support a $1.6 billion Air Products blue hydrogen production and liquefaction facility in Edmonton.
▪ COP27. A new worldwide commission was established to accelerate planning and approvals for the vast deployment of renewable energy sources and green hydrogen.
▪ Germany. KfW Development Bank will contribute €550 million ($572 million) towards a global green hydrogen economy, rising to €2.5 billion.
▪ Indonesia. PT HDF Energy Indonesia and DFC (US International Development Finance Corporation) will facilitate the construction of renewable multi-megawatt power facilities in Indonesia.
▪ Kazakhstan. Svevind signed an investment agreement with the Kazakh government for the 20GW Hyrasia One project. The agreement covers land availability, access to infrastructure, and the "unhindered movement of goods and capital." The $40-50bn project will produce up to two million tonnes of green hydrogen annually, powered by 40GW of wind and solar. It is planned to be operational by 2032.
▪ Korea. Prime minister released a comprehensive strategy to implement dual fuel-based power generation utilizing hydrogen and ammonia, grow hydrogen consumption, and create a global supply network. The strategy includes construction of the world's biggest liquified hydrogen plant, 40,000 mt of clean hydrogen annually, expanding hydrogen refueling stations across the country, and laying an underground pipeline to transport hydrogen.
▪ Mongolia. Sinopec will invest $2.8 billion in a 400 km hydrogen pipeline between Wulanchabu, Inner Mongolia , and Yanshan Petrochemical in Beijing, with a capacity of 100,000 tons per annum.
▪ Namibia. The European Investment Bank (EIB) and Hydrogène de France (HDF Energy), a manufacturer of fuel cells and hydrogen power plants will build a green hydrogen power plant in Swakopmund, Namibia. The EU and Namibia established a new sovereign financing facility worth €500 million to advance Namibia's green hydrogen industry.
▪ Norway. Enova provided $13.8 million to Halten Bulk AS for two hydrogen-powered ships. Enova also invested $65.5 million in the construction of five renewable hydrogen production facilities along the Norwegian coast, as well as $44.1 million for seven hydrogen and ammonia-powered vessels
▪ Panama. Construction will begin in 2023 for the Biorefineria Ciudad Dorada (Golden City Biorefinery), in Colon and Balboa, Panama. The biorefinery will generate 405,000 mt annually of green hydrogen, and 180,000 barrels per day (2.6 billion gallons) of biofuel.
▪ Saudi Arabia. The Neom Project, jointly developed by ACWA Power, Air Products, and NEOM, will use 4GW of combined renewable energy capacity to eventually produce 1.2 million mt/yr of green ammonia.
▪ South Korea. Dangjin City and Hyundai Engineering will build a $300m hydrogen production facility to produce 220,000 tons of hydrogen and industrial gas annually.
▪ Spain. Maersk will invest over €10B in a green hydrogen megaproject, producing 200,000 mt/yr of green methanol, rising to 2 million mt/yr by 2030.
▪ Switzerland. Scania will deliver its first fuel cell trucks in 2024/2025
▪ Thailand. ACWA Power has signed an MOU with Thai government agencies for large-scale renewable-powered green hydrogen and derivatives production facilities. Total investment is $7 billion.
▪ Bloom Energy is expanding hydrogen power production with electrolyzer manufacturing at its Newark facility.
▪ Duke Energy is selling its renewables arm for approximately $4 billion.
▪ Loop Energy announced another adoption of its Loop hydrogen/electric power platform by Italian bus maker Rampini Carlo SpA. The bus is 8 meters long, can accommodate 48 passengers, and has a 10.8-kilogram hydrogen tank and a 450-kilometer range. Three other bus manufacturers have adopted Loop technology to date.
▪ Nel Hydrogen US has teamed up with General Motors to speed up the deployment of Nel's PEM electrolyzer platform.
▪ TMP Logistics ordered 500 large fuel cell vehicles from Quantron, a producer of long-range hydrogen and electric trucks.
▪ Volkswagen has submitted a patent application for a new hydrogen fuel cell that, in addition to being more affordable than the ones already in use, will enable cars to go up to 2,000 kilometers between fill-ups.
▪ Pennsylvania. Nikola Corp and Keystate Natural GasSynthesis partner on blue hydrogen in Pennsylvania, integrating carbon capture with on-site geological carbon sequestration and on-site close-system supplied natural gas feedstock. Output will power up to 2,500 Nikola Tre FCEVs (Nikola's electric semi-truck), plus urea and ammonia for the industrial and transportation sectors. The project is planned to be operational in 2026.
▪ FactSet Analytics reviews the impact of hydrogen projects in drought-stricken areas. In California, the facility plans to source all water from a new wastewater treatment plant, leaving water availability unaffected, while in Utah, the Intermountain Power Project Renewed (IPPR) involves transforming the existing Intermountain Power Project (IPP) by using a hydrogen, storage, and utilization hub. The transition to hydrogen from coal should significantly reduce the amount of water required for cooling.
▪ Study from Hauglustaine et.al. shows that a combination of leakage rates and blue hydrogen production may significantly worsen GHG outcomes (over the current state) at 20 years out, and generate somewhat negative outcomes 100 years out (when most methane and hydrogen have dissipated).
▪ IEA finds that heat pumps are much more efficient than hydrogen for heating. "Once installed and operated properly, one unit of electricity used by a heat pump delivers three to five units of heat on average over the heating season. By contrast, one unit of electricity used by an electrolyzer to produce hydrogen, which is then combusted, results in 0.6-0.8 units of heat."
▪ IEA released its 524-page World Energy Outlook 2022.
▪ RFF. New paper summarizing responses to the original OCED RFI.
▪ WEC Energy Group has completed the first hydrogen power test ever conducted on a utility-scale, grid-connected reciprocating engine generator.
▪ KU Leuven researchers in Belgium have created a hydrogen panel that directly converts water vapor from the air into hydrogen gas, with the help of sunlight. They claim it produces 250 liters of hydrogen per day, at an efficiency of 15%.